Our Experienced professionals have served Naples, Bonita Springs, Ft Myers, Cape Coral and all of Southwest Florida since 1999. ALL of our Mold Assessors are Certified Indoor Environmentalists (CIE).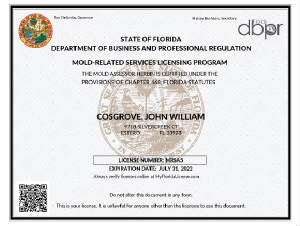 State of Florida Licensed Mold Assessor #MRS5
John Cosgrove, CIE has proven his ability to solve Naples homeowners and businesses mold concerns by identifying the problem and then the source of the mold contamination. His detailed reports with recommendations for corrections not only benefit the homeowner but the remediation company. Remediators know what to cleanup with his mold reports.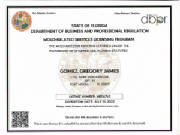 State of Florida licensed Mold Assessor MRSA763
Greg Gomez, CIE
Greg's knowledge of the national standards for mold cleanup "S520" and his 9 years of experience as a Naples indoor air quality professional allow him to write detailed recommendations for any mold cleanup. Any mold remediation should follow accepted industry standards to protect the consumer.
Doug Wall, CIE
Long time North Naples resident Doug Wall has performed radon tests for residential and comercial projects and mold sampling (tests) and assessments in Naples and throughout Southwest Florida for residential and commercial properties since 1999.
Please contact our office to schedule:
Radon Tests / Mold Assessments (inspections) & Sampling
Formaldehyde & VOC Tests / Allergen Screening

Radon & Mold Professionals Toll free: (800) 881-3837
195 5th Street, Bonita springs, FL 34134 .... (239) 498-4619
188 1st Street, Bonita Springs, FL 34134 .... (239) 948-9717
radonandmoldprofessionals@gmail.com or radonandmoldprofessionals@comcast.net

In no event shall WallRadon Testing, Inc. dba Radon & Mold Professionals be liable for any special, indirect or consequential damages or any damages whatsoever resulting from loss of any kind including profits, in any action arising out of or in connection with the use or performance of information available from this website, email or newsletter. All advertisers or links in this website, email or newsletter are for general information purposes only. It is the sole responsibility of any person viewing these pages to verify by outside means the accuracy of the information prior to taking any action based on the content of this website, email, newsletter and any site connected to it via a hyperlink and you should consult your personal realtor, attorney, accountant or respective professional before acting upon information contained herein.