Formaldehyde testing In your Naples, Bonita Springs or Ft Myers home or office.
Older Naples, Bonita Springs and Fort Myers homes built in the 1970's before there were government emissions standards are not likely to still leach formaldehyde gas into your home, formaldehyde emissions decrease with time.

You should understand that formaldehyde is a commonly used chemical by industry for the production of building materials and many household products. Pressed-wood products such as desks, cabinets, sink bases glues and adhesives; permanent-press fabrics; paper product coatings and furniture containing formaldehyde resins can often be a source of formaldehyde in homes. Even low concentrations in cosmetics and other personal care products like lotions, shampoo, conditioner, shower gel, and some fingernail polishes are suspected causes of skin irritation, watery eyes etc.
Please contact our office to schedule:
Radon Tests / Mold Assessments (inspections) & Sampling
Formaldehyde & VOC Tests / Allergen Screening
Radon & Mold Professionals Toll free: (800) 881-3837
195 5th Street, Bonita springs, FL 34134 .... (239) 498-4619
188 1st Street, Bonita Springs, FL 34134 .... (239) 948-9717
radonandmoldprofessionals@gmail.com or radonandmoldprofessionals@comcast.net

Exposure to Formaldehyde Gas
Naples homeowners and homebuyers concerned about potential health risks from formaldehyde need to consider the level of exposure, measured in parts per million (ppm) of ambient air, and the length of exposure time. "Formaldehyde is a naturally occurring substance found at normal indoor and outdoor levels of 0.03ppm. According to Environmental Protection Agency (EPA) information on indoor air quality, formaldehyde concentrations of 0.1ppm can cause minor reactions such as watery eyes, burning sensation in the eyes, nose or throat, or skin irritation."
How your CIE samples "tests" for Formaldehyde Gas
Testing for formaldehyde in your Naples or Bonita Springs home usually consists of one or more of three ways. A passive test, which usually is done for 15 minutes up to 48 hours, is commonly called badge test. An air sample can be collected by your Certified Indoor Environmentalist (CIE) which as with the passive test is best done after the home or office has been in closed house conditions for at least 12 hours. The third type of sample (test) is a bulk sample. A piece or pieces of the material such as flooring needs to be sent to the labs for analysis.
All of our inspectors serving Naples - Fort Myers area are ACAC board Certified Indoor Environmentalists (CIE).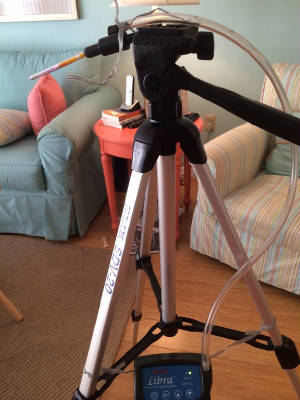 Formaldehyde testing for Naples homeowners concerned with their indoor air quality.
"Formaldehyde also occurs naturally in the environment. Humans and most other living organisms make small amounts as part of normal metabolic processes."
Key Points
* Formaldehyde is a colorless, flammable, strong-smelling chemical that is used in building materials and to produce many household products.
* Formaldehyde sources in the home include pressed-wood products, cigarette smoke, and fuel-burning appliances. ·
* When exposed to formaldehyde, some individuals may experience various short-term effects. ·
* Formaldehyde has been classified as a known human carcinogen (cancer-causing substance) by the International
*Agency for Research on Cancer and as a probable human carcinogen by the U.S. Environmental Protection Agency. ·
*Research studies of workers exposed to formaldehyde have suggested an association between formaldehyde exposure and several cancers, including nasopharyngeal cancer and leukemia.
Identifying an indoor air exposure limit for formaldehyde considering both irritation and cancer hazards
Crit Rev Toxicol. 2011 Sep; 41(8): 672-721.
Published online 2011 Jun 2. doi: 10.3109/10408444.2011.573467US EPA
http://www.ncbi.nlm.nih.gov/pmc/articles/PMC3175005/..

"A weight of evidence-based formaldehyde exposure limit of 0.1 ppm (100 ppb) is recommended as an indoor air level for all individuals for odor detection and sensory irritation. It has recently been suggested by the International Agency for Research on Cancer (IARC), the National Toxicology Program (NTP), and the US Environmental Protection Agency (US EPA) that formaldehyde is causally associated with nasopharyngeal cancer (NPC) and leukemia. This has led US EPA to conclude that irritation is not the most sensitive toxic endpoint and that carcinogenicity should dictate how to establish exposure limits for formaldehyde.
Coclusion for RESIDENTIAL INDOOR FORMALDEHYDE LIMITS:
"assessment concludes that a formaldehyde indoor air limit of 0.1 ppm shouldprotect even particularly susceptible individuals from both irritation effects and anypotential cancer hazard.
"The purpose of this paper is to provide the logic and rationale for deriving a residentialindoor air concentration for formaldehyde using the most defensible scientific datarelated to exposures and/or effects reliably associated with this chemical, including bothcancer and non-cancer effects