Our Naples Indoor Air Quality Professionals have provided radon testing, mold assessment, mold inspections, mold testing, VOC testing and defective drywall assessments by ACAC Certified Indoor Environmentalists in Southwest Florida for years. Our FL DOH certified radon measurement technician R1867 are also state of Florida licensed Mold Assessors MRSA #5 & #763. We have performed over 24,000 radon tests and thousands of mold assessments throughout the Marco Island, Estero, Bonita Springs, Cape Coral and Ft Myers areas.
Please contact our office to schedule:
Radon Tests / Mold Assessments (inspections) & Sampling
Formaldehyde & VOC Tests / Allergen Screening
Radon & Mold Professionals Toll free: (800) 881-3837
188 1st Street, Bonita springs, FL 34134 .... (239) 498-4619
188 1st Street, Bonita Springs, FL 34134 .... (239) 948-9717
radonandmoldprofessionals@gmail.com or radonandmoldprofessionals@comcast.net

National: Certified Indoor Environmentalist
The American Council for Accredited Certification (ACAC) has worked diligently during the past two decades to establish and maintain the finest certifications in the field of indoor air quality.
Our programs offer the only true certifications in the IAQ industry with the following features:
Certification awarded by a nationwide board of industry peers
Psychometrically sound exams based on standard texts rather than classes
Secure electronic exam delivery and instant score reporting
Verification of field experience required for accredited certifications
Compliance with AERA, APA, NMCE and ASTM standards
Third-party accreditation by the Council of Engineering and Scientific Specialty Boards (CESB)
Third-party accreditation by the National Commission for Certifying Agencies (NCCA)
Complete independence from industry associations and trade groups
Complete independence from all training providers
In a rapidly changing field, the ACAC remains firmly behind its commitments to integrity, credibility and independence.
American Council for Accredited Certification
Post Office Box 1000, Yarnell, AZ 85362-1000
Voice: 888-808-8381 - Fax: 888-894-3590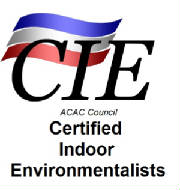 For short slide show of our services - click on image below - Florida Flag - then next image
Radon & Mold Professionals CIE's provide the BEST mold inspections in Cape Coral, Ft Myers, Le High Acres, Punta Gorda, Port Charlotte, Estero, Bonita Springs, Naples, And Marco Island.
John Cosgrove CIE
John Cosgrove, CIE our senior inspector is one of the most experienced and respected mold professionals in Southwest Florida. John has performed hundreds of mold assessments every year using the latest and most advanced equipment available. John is also in charge of our Volatile Organic Compounds odor identification testing services as well as being a forerunner in the investigation of "Chinese" or Odorous Drywall in S.W. Florida.
Council-Certified Indoor Environmentalist (CIE)
Board-awarded by the American Council for Accredited Certification (ACAC)
State of Florida Licensed Mold Assessor #MRSA5
FL DOH certified for radon R1867
For copies of our liability / errors and omisions insurance / employees workmans comp or state of Florida licenses please contact our office.

Consumers should always ask for a CURRENT copy of "certificate of insurance" and license when hiring someone to provide a service.
Performing radon testing, mold inspections since 1999 in Naples, Ft Myers, Cape Coral areas since 1999 has allowed Radon & Mold Professionals Certified Indoor Environmentalists to attain the experience required to provide the best test, best inspection and the best service for your IAQ needs.
Our CIE's are all Florida Department of Health Certified as Radon Measurement Technicians.