Depending on the situation or need, our goal and commitment at Radon and Mold Professionals is to always provide our customers with the best mold assessments, indoor air quality sampling, radon testing and other indoor environmental assessment services in Southwest Florida - Bonita Springs, Naples, Marco Island, Fort Myers, North Fort Myers, Cape Coral. Lehigh Acres and Estero.
We have over 20 years of experience and the professional background to help provide our customers with the most accurate sampling/testing results, thorough inspections and detailed reports.
Our acac.org Certified Indoor Environmentalists were among the first in Florida to qualify as licensed mold assessors,#5 and #763 Mold testing (mold air sampling) alone is not used to determine if a home has a mold problem. Air Sampling alone indicates the need for further investigation and/or helps determine the extent of a mold contamination.
Homebuyers that have a "mold test" (mold air sampling) performed during their pre-purchase inspection should understand the seriousness of some Aspergillus mold growth often indicated by air sampling.
Mold is always a concern for Florida homebuyers, you should understand that "mold tests" (mold air sampling) cannot tell you if a home has a mold problem. Mold air sampling results can be affected by many factors, simply vacuuming prior to air sampling can give a false "elevated" mold count. A visual inspection (assessment) is required to determine if there is a mold contamination in a home. Your mold inspection report must document any suspected mold and identify the source or cause of the mold growth. Mold tests (mold air sampling/air quality tests) can indicate that further investigation is needed and also are used to determine the extent of a mold contamination.

On November 7, 2018 at 11:45 AM Sylvia F <sylviaf@gmail.com> wrote:
Radon&Mold Professionals

Hello all,

I just wanted to say thank you so very much. I felt useless finding out all of the problems in my condo. Thanks to my friend/tenant Nathan for referring me to John Cosgrove in the beginning, who then put me in touch with Imold and Imold put me in the hands of Jeremy Bays my condo is remediated, restored, and looking beautiful with very little time or stress despite my being in Michigan.

I cannot truly express my gratitude to each of you for your thoroughness, efficiency, professionalism, and skill. Each one of you was absolutely outstanding!

Thank you all very much,Sylvia
Please contact our office to schedule:
Radon Tests / Mold Assessments (inspections) & Sampling
Formaldehyde & VOC Tests / Allergen Screening

Radon & Mold Professionals Toll free: (800) 881-3837
188 1st Street, Bonita springs, FL 34134 .... (239) 498-4619
188 1st Street, Bonita Springs, FL 34134 .... (239) 948-9717
radonandmoldprofessionals@gmail.com or radonandmoldprofessionals@comcast.net


Mold Assessment Report needs photos.
Plumbing leaks are common in bathrooms and often a source of mold growth. Inspection report should include infrared & digital photos to document areas of concern. At least 3 and generally 4 photos of moisture intrusion are best help remediator identify and cleanup right area.
You must have a comprehensive and detailed inspection report for the best remediation job.
Our easy to understand and very detailed mold assessment (inspection) reports for Ft Myers, Naples, Marco Island, Bonita Springs and all of SW Florida provide client with the information required to have remediation work done properly.
Our reports for Naples, Bonita Springs and all SW Florida are improved on an ongoing basis to best serve our clients. Contact our office to 'see' a sample report. We can email a sample report which is not current, but has what you should expect from any Naples mold inspection report. We have several companies that copy our reports and are always eager to see updated versions. We have the most detailed and easy to understand reports in our area.
Radon testing should be performed for every home purchase in Naples and Bonita Springs.
Our experience (over 20,000 radon tests performed since 1999) indicates about half the condos have elevated radon levels. Whether you are buying in a two story structure or a high rise unit you should request a radon test from a FL DOH certified radon measurement business.
We perform hundreds of radon tests each year in schools and assisted living facilities.
You NEVER decide a home or structure has a mold contamination based solely on Mold Air Sampling alone.
You DO NOT call the remediation company based on just air sampling.
Our mold assessment is to determine the sources, locations, and extent of mold growth in a building and to determine the conditions that caused the mold growth.
Our mold assessment includes a visual inspection to identify the presence of visible mold and/or excessive, unplanned moisture intrusion (past and present). Our visual assessment will include documenting suspected mold growth, musty odors, moisture damage and damp building materials and conditions. Mold assessment also includes mold air sampling to help determine the extent of any mold contamination.
Mold Inspectors (assessors) cannot do an inspection and cleanup on same job within 12months.
Naples and Bonita Springs consumers should be aware that some local home inspector / mold inspectors are inspecting for mold and then offering to remediate the mold. They find it, clean it up and then check the cleanup themselves. This is unethical and against Florida statutes.
Also Naples consumers should know that a mold assessment must identify (document) source of a mold problem and the extent of problem.
To search all of our sites, type in key words below:
Serving Naples, Ft Myers, Bonita Springs, Marco Island and Port Charlotte, we have performed well over 10,000 mold inpections since 2002 and over 20,000 radon tests since 1999. Collectively, we bring over 40 years of experience of indoor air quality assessments and testing. Our State of Florida Licensed Mold Assessors are CIE's (Certified Indoor Environmentalist), certifications from the American Council for Accredited Certification one of the few
ANSI
approved certification bodies in the country. New IAQ certification standard, NOCA 1100
Radon testing in Naples communities such as Pelican Bay, Pelican Marsh, Grey Oaks, Lely and Fiddlers Creek are common during a Real Estate sale. Our experience suggests that Condo's have elevated radon levels more often than single family homes. Naples Homebuyers should understand that generally the seller pays for the installation of a radon mitigation system if the radon test is 4.0 pCi/l or above (the recommended action level / FL DOH & EPA).
Hundreds of homes have radon mitigation systems installed throughout Naples,
Bonita Springs, Estero, Ft Myers communities. We have performed over 300 post mitigation radon tests just this year (5 months). Elevated radon levels are a health concern but generally treated as just another home repair. Collier county requires a permit to install a radon mitigation system, If someone tries to convince you a permit is not required, call the county. Buyers need a copy of required permits to protect themselves.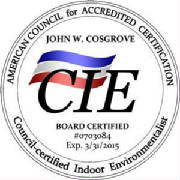 John Cosgrove, CIE our senior inspector is well known as one of the best mold and indoor air quality professionals in Naples, Ft Myers and all of Southwest Florida. He has performed hundreds of mold assessments every year using the latest and most advanced equipment available. John's attention to detail provides clients with a comprehensive mold report identifying problems with recommendations for corrections whether it is a residential or commercial property.
Verify a State of Florida Mold License (click here)
"Mold tests" performed by your Naples or Bonita Springs mold inspector (assessor) are actually mold samplings or mold sample collection
As you read through our site please take advantage of the numerous links available. We encourage you to not only educate yourself more fully as to the ongoing science and debate relating to the complex topic of indoor air quality but also to assure yourself as to the accuracy and source of any and all information presented here. Also keep in mind that we do not perform any remediation of any kind. In other words, we do not fix anything. Nor should we as an inspection and testing entity. Having Radon and Mold Professionals as your assessment and testing company assures you that we are there only to objectively assess and document the existing interior conditions of your property. As a result, we have no potential gain or financial interest in the results. This is a critical point to remember and is absolutely in your best interest. Anyone, or any company, operating (in Florida) in the currently unregulated and unlicensed field of mold, that tells you they can not only inspect your property but fix a problem "if" they find one, is pretty likely to "find" one. The new Florida law will not allow for one company to do both. This addresses the clear conflict of interest of one company offerring both. Currently however, as consumers, you need to be very careful about who tells you what.
Florida Statutes
http://www.leg.state.fl.us/Statutes/index.cfm?App_mode=Display_Statute&Search_String=&URL=0400-0499/0468/Sections/0468.8419.html
468.8419 Prohibitions; penalties.—
(d) Perform or offer to perform any mold remediation to a structure on which the mold assessor or the mold assessor's company provided a mold assessment within the last 12 months.
(d) Perform or offer to perform any mold assessment to a structure on which the mold remediator or the mold remediator's company provided a mold remediation within the last 12 months.
Our top priorities are to provide our clients with professional, cost-effective assessments and exceptional customer service. Our experience, excellent reputation and uncompromising ethics over the last ten years in southwest Florida provides our clients the best opportunity to get an objective, comprehensive and fully documented assessment of their property. Although not legally required to carry insurance, we do. Copies of our "certificate of insurance" can be emailed or faxed promptly to you upon request.
Equipment used during a mold assessment (inspection) include moisture meters, temperature & humidity measuring devices infrared cameras, safety masks, particle counters to name just a few.
Bonita Springs & Cape Coral Inspectors
Radon tests must be performed by person certified to do so by the Florida DOH.
Mold Assessors/Inspectors must be licensed by the state of Florida (DBPR).
Home Inspectors Must have a Florida License for home inspections.
Mold Assessors/Inspectors are required to have at least $1 million in liability insurance with E&O coverage for pre AND post remediation inspections..